The Importance of Search Engine Optimization (SEO) for Small Businesses
As small business owners ourselves, we know firsthand how powerful SEO can be. Search Engine Optimization is the process of elevating your website within a search engine's results. For example, when a potential client or customer goes to Google and types in "bakery near me," what's the likelihood that your bakery will be on the first page of search results? That's where SEO comes in.
PSM's team of SEO experts is here to help increase your organic search ranking on search engines like Google. SEO can really make or break the success of small businesses, which is why it's so crucial that you have a strategy in place. Our team is here to help- from initial SEO strategy to final implementation.
SEO is Constantly Evolving
As the world's largest and most successful search engine, Google sets the rules when it comes to SEO. Their data scientists are constantly updating algorithms and presenting new best practices for SEO. It's a lot to stay on top of, which is why small business clients trust PSM to handle their SEO and create a tailored strategy that works for them. You can rely on our team for detailed guidance and action that drives your organic rankings.
SEO Brings Success You Can Actually Measure
One of our favorite aspects of SEO is how easy it is to measure. Every month, PSM will sit down with you to analyze the success of our SEO strategy. Kick back and relax while your organic rankings climb. Our SEO tracking software combined with Google Analytics allow us to paint a portrait of your SEO success. Our ultimate goal is to have your website appear on page #1 of Google's search results.
Measuring SEO success is vital for small businesses as it helps evaluate the effectiveness of their search engine optimization efforts and make informed decisions for improvement. Several key aspects should be considered when assessing SEO success for small businesses. One important factor is monitoring organic traffic. By analyzing the amount of traffic coming to your website from search engines, you can determine the impact of your SEO strategies. Increasing organic traffic over time indicates improved visibility and attraction of more visitors through search engine results.
Tracking keyword rankings is also essential. Regularly check the positions of your target keywords and phrases in search engine results to gauge the effectiveness of your SEO efforts in improving your website's visibility. Another metric to consider is conversion rates. By tracking conversions such as form submissions, purchases, or newsletter sign-ups, you can measure how effectively your organic traffic translates into leads or customers.
Engagement metrics like bounce rate, time on page, and pages per session provide insights into how users interact with your website. These metrics can indicate the relevance and quality of your content, influencing SEO success. Lastly, monitoring your website's backlink profile is crucial. Assess the quality and quantity of external links pointing to your site, as high-quality backlinks from authoritative websites can positively impact your SEO rankings.
By regularly analyzing these metrics, small businesses can gain valuable insights into the effectiveness of their SEO strategies. This allows them to refine their approach, optimize their website, and enhance their online visibility to attract more targeted organic traffic.
Ready for SEO? Contact PSM.
We love helping small businesses find success. That's what drives us to run our own small business! SEO will increase your website traffic and bring in new business. It's not a matter of "if"… it's a matter of "when." Begin your SEO journey by contacting the experts at PSM Marketing.
Unlocking Success: The Importance of SEO for Small Businesses
In today's digital landscape, small businesses need every competitive edge they can get to thrive and grow. That's where Search Engine Optimization (SEO) comes into play. SEO is a powerful tool that can significantly impact the online visibility and success of small businesses. Here's why SEO is essential for small businesses.
Increased Online Visibility: SEO helps small businesses rank higher in search engine results, making them more visible to potential customers. Being on the first page of search results significantly increases the chances of attracting organic traffic and generating leads.
Targeted Traffic: SEO enables small businesses to reach their target audience effectively. By optimizing their website for relevant keywords and phrases, businesses can attract visitors who are actively searching for their products or services, increasing the likelihood of conversions.
Cost-Effective Marketing: Compared to traditional advertising methods, SEO offers a cost-effective marketing solution for small businesses. It allows businesses to compete with larger competitors without spending exorbitant amounts on advertising campaigns.
Long-Term Results: SEO is a long-term strategy that yields sustainable results. Unlike paid advertising, which stops generating traffic once the campaign ends, the benefits of SEO can persist over time, driving consistent organic traffic and improving brand visibility.
Builds Credibility and Trust: When small businesses rank high in search results, it instills trust and credibility in potential customers. Being visible on the first page signifies to users that the business is reputable and relevant to their needs.
Ready to boost your small business's online presence and drive targeted traffic? Contact PSM Marketing today to learn more about our SEO services and how we can help you unlock the full potential of your business. Let's take your small business to new heights through the power of SEO.
FAQs About SEO for Small Businesses
What is SEO, and why is it important for small businesses?
SEO stands for Search Engine Optimization, which involves optimizing a website to improve its visibility and ranking in search engine results. It is important for small businesses because it helps increase online visibility, drive targeted traffic, and attract potential customers.
How long does it take to see results from SEO efforts?
The time it takes to see results from SEO efforts can vary based on several factors, such as competition, website quality, and the level of optimization. Generally, it takes a few months to start seeing noticeable improvements, but long-term SEO strategies yield sustainable results over time.
What are the key components of an effective SEO strategy for small businesses?
An effective SEO strategy for small businesses includes keyword research, on-page optimization, technical optimization, content creation, link building, and monitoring performance through analytics. Each component plays a crucial role in improving search engine visibility.
Can I do SEO for my small business on my own, or do I need professional help?
While it's possible to handle basic SEO tasks on your own, hiring a professional SEO agency can bring expertise, experience, and time-saving solutions. They can develop comprehensive strategies, implement best practices, and stay updated with industry changes to achieve optimal results.
How can SEO benefit my small business's website traffic and visibility?
SEO benefits small businesses by improving website rankings in search engine results, increasing organic traffic, attracting targeted visitors who are more likely to convert, and enhancing overall online visibility and brand recognition.
Is SEO a one-time effort, or does it require ongoing maintenance?
SEO is an ongoing process that requires consistent effort and monitoring. Search engine algorithms change frequently, and competitors are continuously optimizing their websites. Regular updates, content creation, and monitoring are necessary to maintain and improve rankings.
Can local businesses benefit from SEO?
Absolutely! Local businesses can benefit greatly from local SEO strategies, which target specific geographic regions. By optimizing for local keywords and incorporating location-based information, small businesses can attract customers in their area who are actively seeking their products or services.
Does social media impact SEO for small businesses?
While social media signals do not directly impact search engine rankings, social media can indirectly benefit SEO efforts. Active social media presence can drive traffic, increase brand visibility, and attract backlinks, all of which can positively influence SEO.
Are backlinks important for small business SEO?
Backlinks play a crucial role in SEO for small businesses. High-quality and relevant backlinks from authoritative websites signal to search engines that your website is reputable and valuable, which can improve your search engine rankings.
How can I track the success of my SEO efforts for my small business?
Tracking the success of your SEO efforts involves monitoring various metrics such as organic traffic, keyword rankings, conversion rates, bounce rates, and user engagement. Tools like Google Analytics and Search Console provide valuable insights to evaluate your SEO performance and make data-driven decisions for improvement.
Recent Blogs from PSM Marketing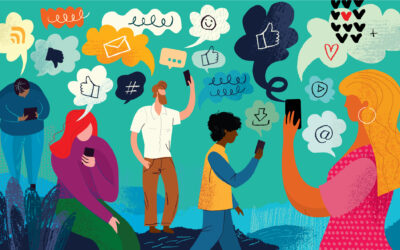 Hey there, curious minds! We've all heard the buzz about the magical world of SEO (Search Engine Optimization) and the power of social media. But do they really go hand in hand? Let's put on our detective hats and unravel this mystery together. SEO is the practice of...