Outsourced Marketing Services We Provide
At PSM, we provide the essential marketing services a small business or non-profit needs to succeed in Minnesota (at a fraction of the cost). Investing in your marketing is one of the smartest business choices you can make—it's the foundation of your reputation! Show your target audience that you're a forward-thinking business or organization by putting your best foot forward. Whether you're just starting out or in need of a total overhaul, we're here to help.
Marketing Strategy
Marketing with no strategy is a waste of time and money. To avoid that, we begin all outsourced marketing relationships by developing a detailed and customized strategic marketing plan. We'll learn what makes your business unique and craft a plan to grow your client base.
Marketing Coaching
We offer personalized 1-on-1 marketing coaching to help grow your practice, business, or organization. Our coaching sessions are designed to provide guidance and support as you navigate the complexities of marketing, and offer tailored strategies to help achieve your business goals.
Search Engine Optimization (SEO)
Search engine optimization is crucial for businesses that want to grow their online visibility, drive organic traffic to their website, and help attract potential leads. An effective SEO strategy can give businesses a competitive edge in today's digital marketplace.
Website Development
If you're a small business or non-profit, you need a website that's modern, responsive, designed for speed and Search Engine Optimization (SEO), and reflective of your brand or mission. We've helped hundreds of small Minnesota businesses and organizations!
Digital Communications
Is your brand presentation consistent on all digital profiles and communications? Attract a larger online audience by creating a cohesive identity for your business or organization. From social media to email marketing, we've got you covered.
Expert Design + Marketing Services at a Price You Can Afford
At PSM, we believe every small business and organization in Minnesota is entitled to the same opportunities for success as its larger competition. We know it can be challenging to keep up when everyone else has more resources and bigger budgets, which is why our marketing services are priced for YOU. Not everyone can afford to hire a fancy marketing agency in downtown Minneapolis. We get that.
After talking to you and learning about your marketing aspirations, we create a customized project proposal. The cost of the project never changes. Ever. Our pricing is very accessible to clients and can be spread out over several months. You tell us what you need and we'll get it done lightning fast.
Guided by The Four Pillars of Marketing™
Coined by PSM's founder, Terrie Wheeler, The Four Pillars of Marketing™ serve as the foundation for our successful marketing strategies. The Pillar I is all about showing love to your existing customers and building those relationships for the long haul. Pillar II involves exploring new business opportunities and getting out there to meet new clients. Pillar III is about making some noise and creating a buzz around your brand, because let's face it, everyone loves a little bit of recognition. And last but not least, Pillar IV focuses on crunching the numbers and making sure that your marketing efforts are actually paying off. So, let's get started building a strong marketing foundation that's based on The 4 Pillars of Marketing™. By focusing on these key areas, businesses can build a strong marketing foundation and achieve their goals. PSM Marketing helps businesses develop effective marketing strategies that are built on these four pillars, ensuring long-term success.
Recent Blogs from PSM Marketing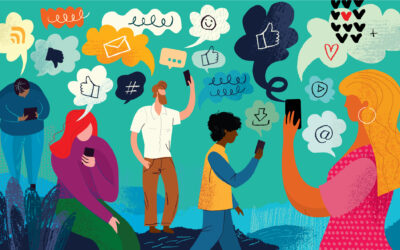 Hey there, curious minds! We've all heard the buzz about the magical world of SEO (Search Engine Optimization) and the power of social media. But do they really go hand in hand? Let's put on our detective hats and unravel this mystery together. SEO is the practice of...