Why We Love the StrengthsFinder™ Assessment
StrengthsFinder™ is a registered trademark of the Gallup Organization
Nearly a decade ago, Gallup unveiled the results of a landmark 30-year research project that ignited a global conversation on the topic of strengths. People who focus on their strengths are more engaged, more productive, and happier. People who have the opportunity to focus on their strengths every day are six times as likely to be engaged in their jobs and careers. They are more productive, too, both individually and in teams. And they are more than three times as likely to say they have an excellent quality of life. This is what we want for you!
You have your own unique talents and strengths – so our goal is to help you understand how to make them work for you as you are marketing yourself and your services. Remember this – your approach and strategy will be different than anyone else's because of your unique combination of strengths.
Uncover Your Strengths
The StrengthsFinder uncovers your top five dominant strengths. Your strengths will be under a combination the Four Domains of Leadership which include: Executing, Influencing, Relationship Building, and Strategic Thinking: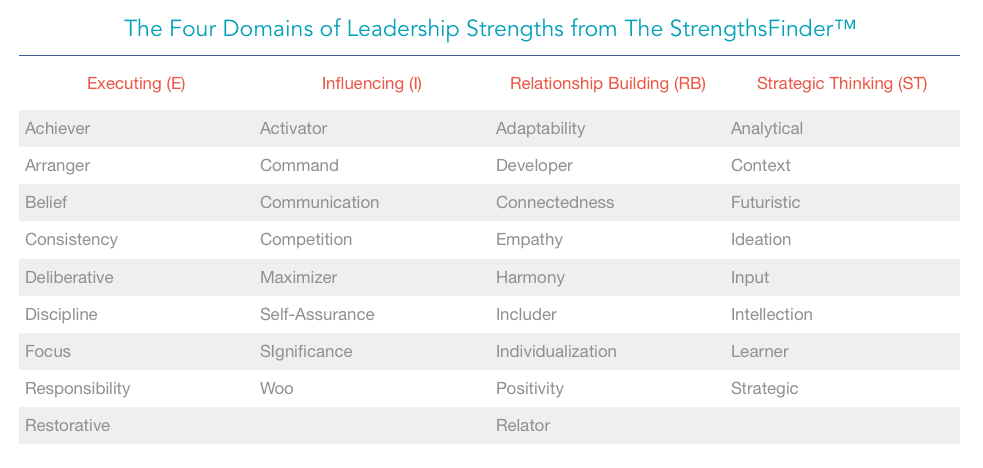 Background on The StrengthsFinder Assessment
The StrengthsFinder assessment, based on positive psychology and developed by Gallup, is a powerful tool designed to identify individuals' natural talents and strengths. By focusing on what individuals do well, rather than trying to improve weaknesses, the assessment aims to help people leverage their innate abilities to achieve personal and professional success.
The assessment consists of a series of questions that evaluate participants' responses to various scenarios and situations. Upon completion, individuals receive a personalized report detailing their top five signature strengths out of 34 possible themes. These strengths fall into categories such as communication, empathy, strategic thinking, and executing.
The StrengthsFinder assessment encourages individuals to embrace and capitalize on their strengths, promoting self-awareness, confidence, and improved decision-making. This newfound understanding empowers individuals to find roles, tasks, and projects that align with their strengths, leading to increased engagement, productivity, and satisfaction in their endeavors.
In the context of professional development, the StrengthsFinder assessment is a valuable tool for team building, leadership development, and talent management. By recognizing and combining the diverse strengths of team members, organizations can foster a more collaborative and synergistic work environment.
The StrengthsFinder assessment serves as a catalyst for personal growth and organizational success, providing individuals and teams with valuable insights to maximize their potential and excel in their respective domains. Embracing and leveraging strengths can lead to greater fulfillment and achievement, making it a crucial resource for individuals and businesses alike.
FAQs About The StrengthsFinder Assessment
What is the StrengthsFinder assessment?
The StrengthsFinder assessment is a psychometric tool developed by Gallup that helps individuals identify their natural talents and strengths. It consists of a series of questions designed to evaluate one's responses to various scenarios, providing insights into their top five signature strengths.
How does the StrengthsFinder assessment work?
Participants answer questions related to their preferences, behaviors, and reactions. The assessment then analyzes these responses to determine their dominant strengths from a list of 34 possible themes.
Why is the StrengthsFinder assessment important?
Understanding and leveraging one's strengths can lead to improved performance, increased engagement, and higher levels of satisfaction in both personal and professional settings. It empowers individuals to align their activities with their innate talents, promoting greater success and fulfillment.
How can the StrengthsFinder assessment benefit teams and organizations?
In a team or organizational setting, the assessment can facilitate better collaboration and productivity by helping team members recognize and appreciate each other's strengths. It enables leaders to build more cohesive and high-performing teams by assigning tasks that align with individual strengths.
Can the StrengthsFinder assessment help with personal development?
Absolutely! The assessment provides valuable insights into an individual's unique qualities, helping them better understand themselves and build self-awareness. Armed with this knowledge, individuals can make more informed decisions about their career, personal growth, and areas of focus for improvement.
Recent Blogs from PSM Marketing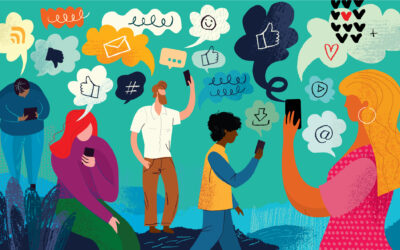 Hey there, curious minds! We've all heard the buzz about the magical world of SEO (Search Engine Optimization) and the power of social media. But do they really go hand in hand? Let's put on our detective hats and unravel this mystery together. SEO is the practice of...