There's a lot published about personal brand and its importance. It's essential that you take the time to hone in on your personal brand – especially if you are looking to make a career change or launch a business or consulting practice.
When your Brand is your Team's Brand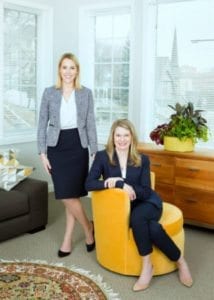 But what about when you are part of a team? What about when the team's brand is as important or even more important than your personal brand. Often the "whole is greater than the sum of its parts."
For LinkedIn, you'll still want that professional headshot that conveys your personal brand, but when it comes to marketing your team, you'll also want an image that conveys the brand of your team. I worked with two teams recently where this was vividly evident.
This team of Thrivent Financial advisors works together to help their clients achieve financial peace of mind by being "wise with money and living generously." They work together as a team in every aspect of their business. We talked about the look they wanted to convey. In working with Matt, Kelly, Ben and Mike, it was apparent that they have a unique synergy. There was an ease and comfort in the way they jibed each other in good humor and their genuine laughter. This was the brand I wanted to convey in their team photo. In looking at this team of professionals together, their comfort with each other is apparent as well as their professionalism.
Allison leads a family law practice with her associate Morgan. While Allison is the senior attorney in their practice, we wanted to show that they are clearly a team. We wanted to show them in the inviting environment of Allison's office, while demonstrating their natural vibe of warmth, calm and confidence.
Know Your Team's Brand
It is so important to know your personal brand and convey that in every element of your LinkedIn profile, including your profile picture. But if you are part of a team, where the brand of the team is equally as important or more so, don't forget to invest the time and resources to also articulate and portray your team's brand!
Sometimes your brand is your team's brand. Here are some examples of other teams we have photographed.
---
This blog was originally written by Jen Kelly, PSM's Headshot Photographer, and published on KeliComm's website.
[/vc_column_text][/vc_column][/vc_row]