PSM Marketing: Thought Leaders on Work-Life Balance in Minnesota Since the 90s
Since its inception over 20 years ago, PSM Marketing has been a virtual marketing firm. Early on, PSM allowed for flexible work hours, remote working, video conferencing, and overall work-life balance back when those concepts were truly novel in most corporate settings. This progressive business model has helped establish PSM as a thought leader in the Twin Cities business community. Today, workplace culture is shifting to include the desires of Gen Xers and Millennials; two generations that prioritize work-life balance. So why does this model work so well? What magic did PSM tap into way before it was cool? Let's explore.
Virtual Work is Especially Beneficial for Professional Women
When she first started PSM Marketing, PSM's President + Founder, Terrie S. Wheeler, knew she wanted to hire educated women with backgrounds in marketing. After working in a corporate setting for over 12 years, Terrie saw female colleagues come and go at an alarming rate. Many of them chose to leave their high-powered positions in Minneapolis law firms to start a family. Whether they were out for 3 months or 3 years, it always seemed harder for these women to "catch up" to their male counterparts when (or if) they reentered the workforce. For many women in the 80s, 90s, and even early 2000s, building a family often meant sacrificing their careers.
According to Terrie, "In creating PSM, I wanted to tap into the population of highly talented (mostly women) who chose to stay home with kids but didn't want to let their professional brains atrophy." Terrie saw an opportunity to create something new. A company where women wouldn't be penalized for staying home with their kids. A company with no commute time. A company where you didn't have to sell your soul to succeed. PSM had no dress code and make-up was not required.  The best thing for Terrie at the time, was no pumps and no pantyhose! As you can imagine, PSM has been able to attract top-notch creative and business professionals in the Twin Cities.
"In creating PSM, I wanted to tap into the population of highly talented (mostly women) who chose to stay home with kids but didn't want to let their professional brains atrophy." – Terrie S. Wheeler
Terrie's innovative approach was met with some backlash from traditional brick and mortar companies that interpreted "virtual work" as "fake work." After delivering outsourced marketing services consistently over the past 20+ years, PSM showed the doubters. Over 75% of our team is female-identified, which is something we're very proud of.
What Our Resources Love About PSM's Virtual Model
Virtual companies like PSM account for the fact that our team members are actual human beings. They get sick. They have bad days. They might work more efficiently at 1 AM than 2 PM. Rather than force our team members to abide by stiff rules established in a corporate environment, we offer our resources flexibility.  This requires two things:
Strong Communication: If you don't have capacity to take on new work, let us know. If you're out of town for a week, let us know. If you're having trouble meeting an upcoming deadline, let us know. Managing expectations through clear communication is key to a successful virtual company.
Accountability: Do what you say you'll do. This one is pretty simple. We don't care how it gets done, just that you meet the agreed upon timeline.
The Big Picture: Virtual Work is the Future
Recently, I've been asking friends a simple question: "If you didn't have to put in an 8-hour day, how long would it take you (realistically) to accomplish your work each day?" Without fail, most of my friends scoff and say "4-6 hours." Imagine working 4-6 hours every day. That's 20-30 hours per week! You might have time to…live your life. Travel. Cook. Spend meaningful time with loved ones. Get 8 hours of sleep. It reminds me of this graphic I first saw in college: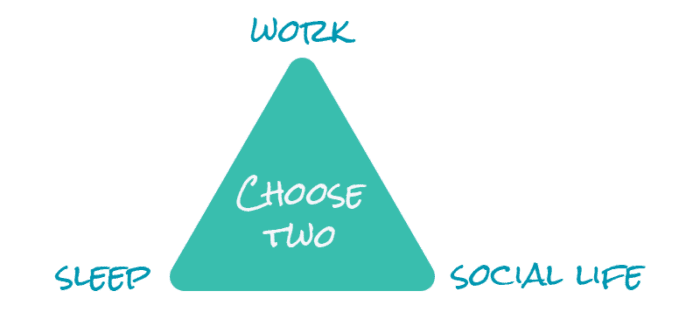 Too many people are forced to make this false choice, and companies structured like PSM are the answer. PSM has tapped into the truth that people are more productive when they can work virtually. Not only are they happier, but they are more innovative, creative, relaxed, and strategic. What company doesn't want that for its team?  What client doesn't want their marketing team to be full of the fresh ideas that come from a team with work/life balance?  We think our model is the wave of the future and hope you have an opportunity in your career to experience a virtual work environment.
For more blogs of the contributor, Michelle R. Wheeler click here->